Digital Acceleration for Indigenous Youth partnership announced with a multi-year commitment from Mastercard Foundation
Through an initiative to support the development of skills building in Science, Technology, Engineering, Arts, Math (STEAM) for youth in Indigenous communities in Atlantic Canada, the Mastercard Foundation is supporting the Digital Acceleration for Indigenous Youth initiative. This innovative partnership is between the McKenna Institute at the University of New Brunswick (UNB), the Ulnooweg Education Centre, and the Joint Economic Development Initiative (JEDI).
At an announcement today at the Maqiyahtimok Community Centre in Fredericton, the Mastercard Foundation made a commitment of $5.2 million to the partnership through the Foundation's EleV Program, which aims to support Indigenous youth through education and on to meaningful livelihoods. The three-year project will enhance the learning of foundational STEAM skills for youth in Indigenous communities across Atlantic Canada, to create pathways to higher education in STEAM. Students will learn via a mobile technology unit that will bring educators and the necessary tools directly to Indigenous communities, focusing on uplifting cultural practices and values as part of the program. Students will receive hands-on learning opportunities, focusing on showcasing multiple entry points into STEAM careers. Opportunities in areas such as fabrication, cybersecurity, artificial intelligence (AI), and robotics, among others, will be shown as career opportunities to those with specific skills training.
"This partnership is breaking down barriers by bringing education directly to Indigenous youth in their communities and opportunities for meaningful livelihoods in the places they call home," said Jennifer Brennan, Director of Canada Programs at the Mastercard Foundation. "This is a fast-growing sector, and Indigenous youth are under-represented. We are proud to support this innovative partnership that brings together two strong Indigenous organizations and a leading-edge institution to work together in new ways that benefit Indigenous youth."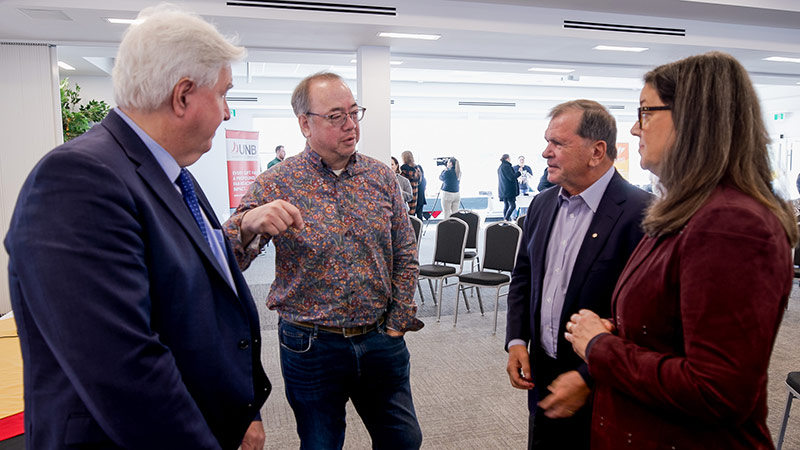 As part of the initiative, students who complete foundational STEAM skills training will be connected directly with employers in their region.
« A central focus of Ulnooweg's activities is connecting Indigenous youth with STEAM education through hands-on programs and initiatives, » according to Christopher Googoo, Chief Operating Officer. « With the McKenna Institute and JEDI, we look forward to working together to bring opportunities and training directly to Indigenous communities. As a result of this training, Indigenous youth will have access and knowledge of potential jobs and skills to consider STEAM pathways that can benefit community growth and prosperity. »
"JEDI has been offering advanced ICT training to the Indigenous Peoples of New Brunswick for many years and we are excited to have the opportunity to collaborate to bring STEAM training right into the Indigenous communities in Atlantic Canada," said Stanley Barnaby, CEO of the Joint Economic Development Initiative (JEDI). "Working with the McKenna Institute, Ulnooweg Education Centre, and the Mastercard Foundation has been a pleasure and we are excited to continue to keep the momentum going. Offering Indigenous youth more training and career opportunities in STEAM only makes sense as we have seen the success that can be achieved when the opportunities are there."
"The McKenna Institute is proud to partner with two excellent Indigenous organizations to build this unique initiative that will create entry points to the STEAM field for more than 4000 individuals in Atlantic Canada." says the Honorable Frank McKenna, Founder of the McKenna Institute. "A focus area for the Institute is attracting underrepresented groups to the STEAM field. The $5.2 million commitment from the Mastercard Foundation will engage, train, and upskill thousands of youths who will be a part of today's digital economy."
The training offered through the mobile technology unit will also equip learners with the skills in STEAM to further their education through pathways to post-secondary opportunities. Many of these opportunities will be available at one of the University of New Brunswick's campuses.
"The University of New Brunswick has an ambitious strategic vision and new partnerships are fundamental for realizing our goals for increasing accessibility to university across New Brunswick and Atlantic Canada. The extraordinary commitment from the Mastercard Foundation of $5.2 million will prepare Indigenous students across the STEAM disciplines to pursue further educational opportunities at UNB and the New Brunswick Community College (NBCC)," said Dr. Paul J. Mazerolle, UNB President and Vice-Chancellor.
The mobile technology unit is currently being built by and in the communities that it will serve. In the summer of 2023, the mobile unit will make its first rounds throughout Indigenous communities in Atlantic Canada. This project, undertaken with the support of the Mastercard Foundation, will be a major piece in advancing New Brunswick's digital economy.
About UNB
The University of New Brunswick (UNB) is among Canada's top comprehensive universities. We offer world-class programs with a small-university experience. On a mission to create the premier university environment in which to learn, work and live, UNB has been leading discovery and innovation for centuries. Our entrepreneurial thinking has been unlocking creative potential since 1785. The unique nature of our programs attracts students from over 100 countries.
About The McKenna Institute
The McKenna Institute is an agile, passionate and entrepreneurial centre of excellence based at UNB. It is driving a broad, multifaceted agenda for digital transformation in New Brunswick. The McKenna Institute is rooted in New Brunswick with a strong outward gaze, partnering with local communities and organizations while seeking digital best practices globally. Working with stakeholders in government, industry, non-profits and academia, we enrich our province today and position it for a bright future with new levels of prosperity, progress and pride.
About the Mastercard Foundation
The Mastercard Foundation works with visionary organizations to enable young people in Africa and in Indigenous communities in Canada to access dignified and fulfilling work. It is one of the largest private foundations in the world with a mission to advance learning and promote financial inclusion to create an inclusive and equitable world. It was established in 2006 through the generosity of Mastercard when it became a public company. The Foundation is an independent organization, and its policies, operations, and program decisions are determined by its own Board of Directors and senior leadership team. It is a registered Canadian charity with offices in Toronto, Kigali, Accra, Nairobi, Kampala, Lagos, Dakar, and Addis Ababa.
About the Joint Economic Development Initiative (JEDI)
The Joint Economic Development Initiative (JEDI) is a leading Indigenous organization dedicated to working with partners to foster Indigenous economic development in New Brunswick. Founded in 1995, JEDI provides its clients with a variety of Indigenous business and workforce development services. JEDI programs include Business Incubators and Accelerators, Advanced ICT Training, Trades Training, and Digital and Financial Literacy Training.
About the Ulnooweg Education Centre
The Ulnooweg Education Centre is an Indigenous-led registered charitable organization that aims to bring foundational change and empower Atlantic Canada's Indigenous communities through the advancement of education. Their mandate reflects in three major pillars ranging from collaborative research to the development and delivery of quality educational programs. Programs and initiatives are focused on key areas of science & innovation, agriculture, forestry and financial literacy.
Media contacts
McKenna Institute
Curtis Richardson
Project Advisor
Email: curtis.richardson@unb.ca
Phone: (506) 260-7781
unb.ca/mckenna
Mastercard Foundation
Don Kelly
Head, Public Affairs and Communications, Canada Programs
Email: dkelly@mastercardfdn.org
Phone: 437-360-4095